About Me
I am currently a high school student studying in Canada.

Taught myself C in Grade Four, I am comfortable in programming in C, Python, Rust, Unix shell, et al. to computers. I am also a rather experienced Linux system administrator, with experience in working with various software and hardware and setting up and debugging networks.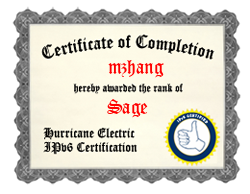 Apart from working with computers, I love to work on random physical projects like IoT light switches, audio amplifiers, and a amateur radio. It is also quite easy for me to drown in any physics or chemistry topics and forget about dinner.
As a person, I have my own set of moral rules that I follow. Other people usually describe me as "very handy" and "treating other people's problems as if they were my own." I try to stay altruistic and do whatever I can to make the world a better place. Apart from that, I guess I share some sense of humour.

Why I started computer programming?
It's really a long story. Long being known as the "science nerd" in the school, I got to know the magazine named 《无线电》["The Wireless"] when I was addicted to making crystal radios back in Grade Three. This magazine informed me about Linux and open-source hardware.
However, it was Swift, which was announced in 2014, that actually motivated me to learn to program — partly because of Apple's engaging presentation. Nonetheless, I chose to learn C as my first language because of its closer relationship to the hardware, with which I was more familiar back then.
Hobbies
Playing music is one of my favourite pastimes. I like to experiment with the guitar, the harmonica and the accordion.
Being an environmentalist, I love to hang out with my friends, go outdoors, collect rubbish, and leave no trace.
As an active person, tennis, basketball, and Ultimate Frisbee are all sports that I play.
My Projects
My favourite programming languages include Rust, Python, and the very original C.
Education
I am currently a high school student.